I could barely remember my first time to Lansdowne Road to watch Ireland play football, but I recently came across the ticket stub, and as with any physical item it helps bring some of the memories back.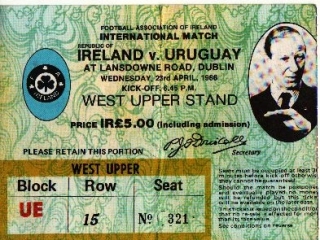 It was the start of the Jackie Charlton era, his second match in charge and with the arrival of a South America team to Ireland (it was Uruguay), Dad took the chance to crank up the blue Fiat 127 and get it to drag us up to Dublin. I must say the sights and sounds are vague in my mind, it was cold day and so I didn't enjoy it when we had to stop at the Dart gates just outside the ground to let a train pass. We headed for the West Upper Stand, which I'm sure meant we had to walk in under the Dart line again but anyway for me it was just concrete, grey dark cold concrete everywhere until we got into the stand and up, and up into the gods. I remember the overhead roof being quite long, and the seats, so wooden and old and grey.
The match, well Uruguay scored first, don't remember the goal, but the feeling of deflation around the ground was definitely memorable.  The biggest excitement of the day was around the Irish goal for sure, which didn't come too long after the Uruguay one. A penalty taken by the bearded Gerry Daly, scored with aplomb into the South Terrace goal. The cheer was massive, but then the memory starts to fade again as I try and think about whether there was a rendition of "Come on You Boys in Green" at that point, or not, there might have been but I could be wrong. After that the game must have been quite dull as I don't remember a thing from it, and the match ended as a 1 -1 draw.
Anyway back to the present day and the reason for the post it's not just a memory of the Old Landsdowne Road, but this week, I get to bring my Dad to the new Aviva Stadium for the first time, in some ways a return trip. The opponents South America again, but this time the mighty, Argentina, sans Maradonna which is a pity.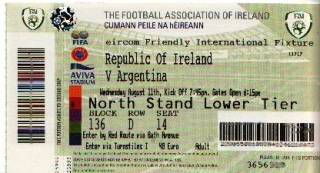 I'm definitely looking forward to this game, I believe it's going to be a full house and with the stadium so compact if there is a rendition of "Come on You Boys in Green" I think it will be a good one.
Finally though I do have one small dilemma. You see many months after that match in '86, Dad had one comment to make, "That fecker I bring him a 100 miles or more to see Uruguay play and he goes and cheers for Ireland!".  On this return trip I may just make up for that.