So the first roar, the first national anthems, the first boring match for the new Landsdowne Road. This really was all about the stadium and not the match.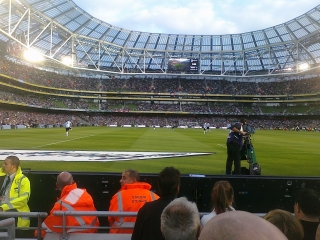 I was looking forward to the match between Ireland and Argentina, but this was no competitive international, this was a bore, as Argentina were pure class, and Ireland just had one tactic, to hoff the ball up front. Messi showed some flashes of magic, he was clearly head and shoulders above everyone else, with the only player showing any stature on the Ireland side was John OShea.
But enough about the game, the Stadium was just fantastic, and I could tell that the minute there was any good, cheering, singing it would reverberate around the ground very quickly, on a big match day Id say this would be awesome.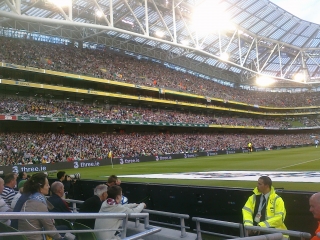 One little gripe, on important instances during the game the big screens would NOT show a replay, just a static screen with the new Irish sponsors logo on it. I know they have to do this, but still no replay, was a pain.
So heres to the new Lansdowne Road Mr. Tayto
a href=http://www.flickr.com/photos/miguelpdl/4887948573/ title=Come on Mister Tayto give us a bag of crisps by miguelpdl, on Flickrimg src=http://farm5.static.flickr.com/4139/4887948573_d9c35e7855.jpg width=374 height=500 alt=Come on Mister Tayto give us a bag of crisps //a